Petticoat Pink without flash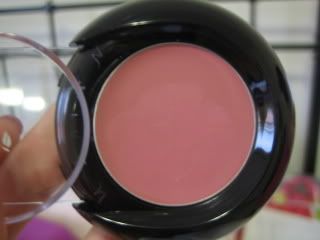 I picked this up from a private sale and I must say I don't regret it at all. The Lancome Color Design Blush in Petticoat Pink is just the right amount of pink on my cheeks (I'm a MAC NC30). It retails for $30.00 CDN, and you can click here to purchase it from the website.

The consistency is indeed creamy, and I use my fingers to tap it onto the apples of my cheeks. It takes a few seconds of rubbing the product to get enough of it on your fingers. I think the pot will last a long time, though. And another good thing about it is that it doesn't break me out (yay!).

Here is a swatch (without flash):



It feels smooth upon application, and if you gently tap it on the apples of your cheeks you can achieve that 'flushed' pink cheeks look, as if you came in from the cold.

As for staying power, it's alright. By the middle of the day I'd have to reapply it already.

It comes in six other shades, ranging sort of a plum-y color to a bright pink, to a peachy color or a light pink.
Have you tried this product? If so, let me know what you think!