It's about time I made this review! Here is my take on the Tarte Vanity Palette. I'm aware that there was a new palette that came out for last Christmas, but I'm almost positive that the powders and the formulas are the same or very similar (unless they made a huge change!)
Eye Palette
This was my first time using makeup by Tarte, and I am none to pleased with the eyeshadows.
For those who want a light wash of colour, then this might be the right palette for you. I want more colour payoff, so when I used these colours for the first time, I was disappointed.
No matter how many times I layer it on with a dry brush, the colour would never be the same as it looks on the palette. The closest ones are the peachy colours-- those ones aren't so bad. But the green tones don't have much pigment.
I haven't tried them with a wet brush (not really my thing), but when I do I'll post an update or just edit this post.
Lip Palette
The lip glosses were pretty pigmented, which made me wonder why the eyeshadows weren't up to par.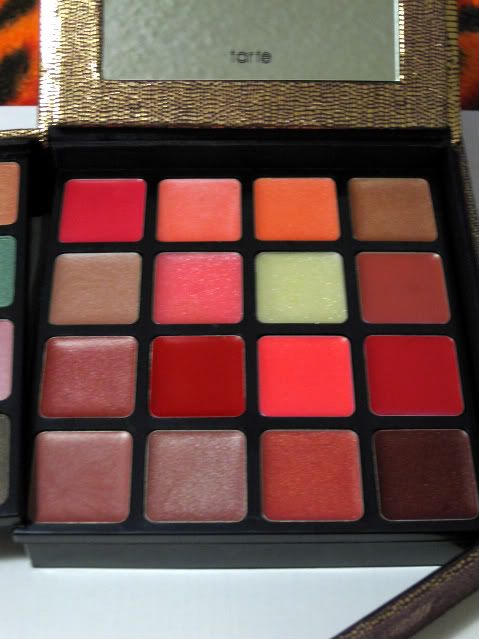 The pinks really come out to the same shade as they look on the palette. What I didn't like so much about it was that they tend to be drying. The peaches don't really show up on my lips as my lips are naturally pigmented kind of a pale berry.
Cheek Palette
This is my absolute favourite part of the whole palette.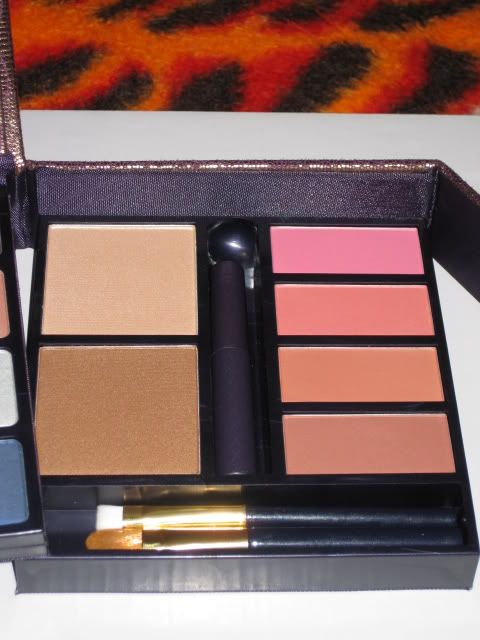 I use these blushes almost everyday, when I'm not reaching for my NARS Orgasm or Almay bronzer. I absolutely love the four different shades of blushes (right). The second and third are the perfect shades of peach, and the top pink is the prettiest. The illuminizer (top left) is perfect for when I go to an event where we're taking photos, it really illuminates all the right spots. I apply it to the top of my cheeks as well as on the bridge of my nose. The bronzer is alright, however.
Like it? Love it? Let me know!