I have a bit of an obsession with dry shampoo. I'm always looking out for an affordable one that does the job, I mean, who isn't?
I've done a review on
Ojon's Rub Out Dry Cleansing Powder
and that didn't work for me. First, it was too expensive, and I didn't like the loose powder format.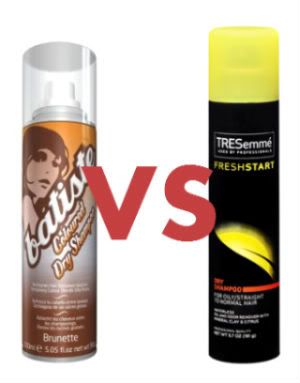 Then I was given the Tresemme Fresh Start Dry Shampoo to try out on my second day hair. It works and it does the job just fine. But I find that the white residue takes a while to disappear, no matter how far I spray it from my hair. It smells pretty good though.
In case you were wondering, the correct usage of a spray format dry shampoo is to spray it about 20 cm away from your hair/scalp. Then you let it sit for a couple of minutes, then you brush it out until there is no telltale sign of cheating from washing your hair that day.
Enter the ever popular Batiste. Batiste just came out with these coloured dry shampoos and the one I got to try is 'Brunette' (the other shade is 'Black'). My (black) roots just started to grow out, so the coloured dry shampoo helps blend it with my dyed brown hair.
I must say, Batiste definitely beats both Tresemme and Ojon. I have bangs, so I spray it directly on my scalp as well as all over my bangs. I leave it on for a couple of minutes, and I almost never have to brush any residue out! It lasts all day, unlike the Tresemme (by the end of the day my bangs are oily again!). It also smells good, and I can't stress it enough,
it lasts all day
!!!
So, Batiste VS Tresemme... Batiste wins this one!